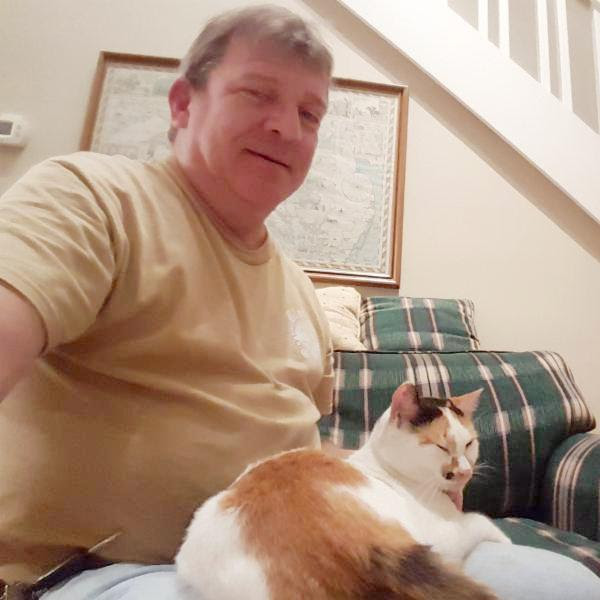 A "Cindy"-rella Story
Two years ago, I adopted a calico cat named "Cindy" from Palmetto Animal League. I had just lost my previous calico cat of 18 years. Cindy is very happy and is enjoying all of the comforts of home, including being fed the highest quality food. She is on the receiving end of many efforts to convince her that she is the most cared for and loved cat anywhere! Cindy enjoys exploring her yard and the outside world on a daily basis, but spends most of her time indoors. She has been a joy to add to my household. Thank you, PAL, for all that you do.
~ Darrin Shoemaker, Hilton Head Island
Two Is Better than One
Making the decision to adopt another companion animal after the loss of one is a very difficult and emotional decision, at least for me. Having made the decision to do so, I reached out to PAL President, Amy Campanini, and told her of my intention to adopt a cat… or two. Amy quickly responded and invited me out to visit the PAL Adoption Center. When I arrived at PAL, I was overcome by the number of handsome, friendly cats available for adoption. I entered each room and gave attention to each inhabitant. In one room, I was immediately drawn to a large male tabby named Junior. He has that 'panther' look about him and is very handsome, something I am quite sure he is aware of. After visiting each room, I was no closer to making a decision than I had been when I arrived. I asked the PAL Staff which cats had been there the longest in an effort to establish some form of criteria that would help me make a decision. They told me Junior had been there longer than most, along with a tiny, tabby cat named Sylvia in an adjacent room.
Numerous visitors came in during the several hours I was at PAL and I watched as one couple entered the room in which Sylvia lived. She immediately ran towards them, jumped up on a wall shelf and waited hopefully to be noticed and petted. She was neither noticed nor petted and I watched as she hung her tiny head in what I can only say looked like resignation. I imagined she thought that, once again, this was not going to be her forever family. It broke my heart to see what I imagined was disappointment on her little face. Sylvia had been a resident at PAL for numerous years, as well as Junior. You can see where this is going. After much soul searching I decided to take Junior home that day and return for Sylvia the next weekend. I can honestly say that adopting these two cats was the right decision, though a very difficult one. There were so very many wonderful cats to choose from, which is both a good and a bad thing.
Junior has been renamed Moose, as he is a rather large kitty. Sylvia has kept her name and they are both the greatest cats in their own ways. Sylvia is a social butterfly and loves to greet all visitors, while Moose is shy and checks out company by peeping out around corners. He is quick to warm up to people and is a very sweet boy. He is the only cat I know who chases his own tail and lies on the floor with "frog legs"! He makes me laugh every day. Sylvia is very loving and constantly wants attention. Both cats have blossomed as they quickly made the transition to living in a home environment.
I have enjoyed watching them do things they have not been able to do in while, if ever, such as sitting in an open window while watching squirrels and birds, lying in a pool of sunlight, feeling the wind blow over their upturned face in front of a screened door and so forth. I am very happy that I chose them and hope that all of the other kitties I did not adopt get forever homes soon. If you are considering adopting a companion animal, please do so as there are so many wonderful cats and dogs at PAL who so deserve a second chance. I am grateful that I am able to provide a loving home for these two wonderful cats.
Thank you Amy, PAL Staff, volunteers and supporters for all you do!
~ Paula Berube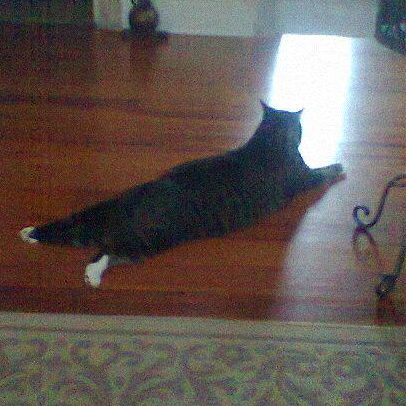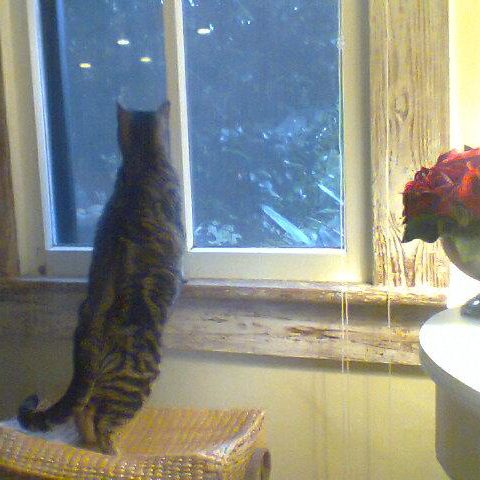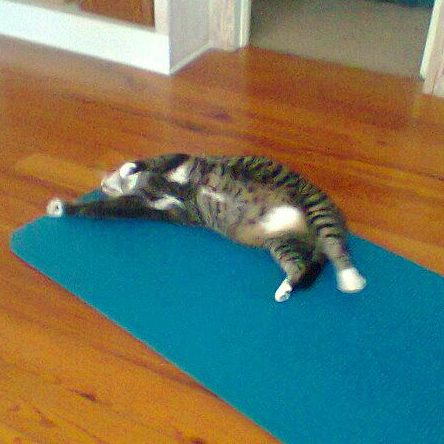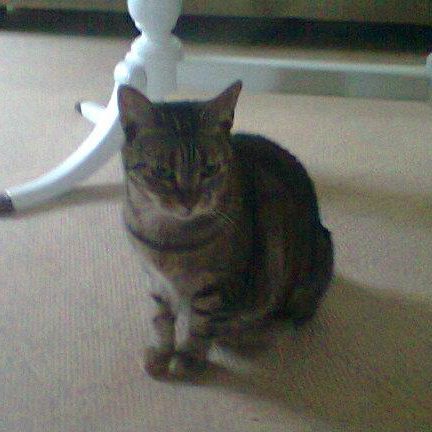 The Joy of a Dog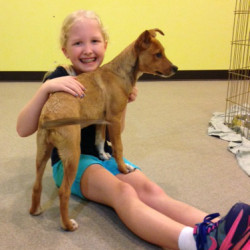 As a random act of kindness, Amelia Stinson and Mia Gruner printed out the list of needed items from the Palmetto Animal League (PAL) website and set out around the neighborhood (accompanied), giddily pushing a beach cart up each neighbor's driveway. People were happy to donate supplies such as towels, paper towels, sheets and much more.
We loaded up the items we had collected and set off for PAL. Once we arrived, PAL staff members were happy to accept the donations and they even took the girls back to see the dogs and cats. Amelia and Mia made lots of new friends! We returned home happy that we were able to help PAL. A few days later, Amelia and I returned to PAL with cat and dog treats and we played with the animals again.
After a few family discussions, we decided that our home needed the joy of a dog again, so we adopted Harlowe, now Lottie. We are so happy! She is the most loving puppy-girl and everyone at PAL has been fantastic. You can tell she was very loved there.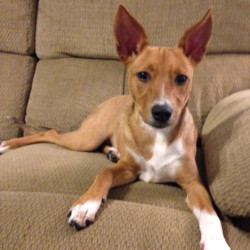 We are thankful for PAL's community clinic as well. Lottie received affordable treatment for a small issue and now she is all better. I suggest that everyone take part in a random act of kindness by visiting Palmetto Animal League. You may just find your sweetheart!
~ Stacha Schiller Stinson